Overview
The workplace can be a challenging interpersonal environment where differences in management and communication styles, shifting gender roles, and competing economic agendas can all contribute to conflict. The Goldberg Simpson Labor and Employment practice has extensive experience in all aspects of labor and management relations, employment and personnel law from the management and employee perspectives. We offer our clients comprehensive representation in this area from a team of experienced practitioners.
One component of this practice is geared towards compliance and prevention, and the firm works closely with in-house human resource managers to design workplace policy and procedure manuals for employers in Kentucky. Our attorneys are well- versed in the problems that arise in the workplace and are experienced in providing practical advice based upon the law and the client's needs.
Additionally, a large component the practice is the representation of both employees and employers in employment claims.  Although Kentucky is an "at-will" employment state, claims resulting from the termination of employment may arise where the employee is a member of a "protected class" and has a potential claim for discrimination under the Federal or Kentucky Civil Rights Act based on age, gender, race or disability.  Our attorneys are experienced in representing both employees and employers in wrongful termination cases filed in state and federal court or with administrative agencies such as the Equal Employment Opportunity Commission.
Our attorneys also have strong expertise in drafting, reviewing and litigating disputes arising from employment agreements and non-compete agreements, as well as drafting and reviewing severance agreements.
Representative activities of attorneys in this practice include:
arbitration and mediation services ▪ comprehensive representation before the Kentucky Commission on Human Rights, Equal Employment Opportunity Commission (EEOC), Louisville and Jefferson County Human Relations Commission, Unemployment Insurance Commission and other administrative agencies ▪ Wage and Hour Act compliance and litigation ▪ discrimination and wrongful discharge litigation ▪ Americans With Disabilities Act (ADA) compliance and litigation ▪ personnel policies and procedures including preparation and maintenance of Employee Handbooks, Policies and Procedures manuals, workplace and employment audits and related compliance and reporting advice ▪ FMLA-compliance advice and litigation.
The service area for this practice includes Louisville, Southern Indiana and throughout Kentucky.
Families First Coronavirus Response Act
We are continuing to monitor and update information regarding the coronavirus and the implications on employers and employees. Click below to view information regarding the Families First Coronavirus Response Act (FFCRA or Act), which requires certain employers to provide their employees with paid sick leave or expanded family and medical leave for specified reasons related to COVID-19.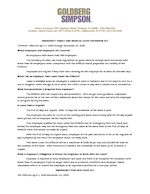 Attorneys